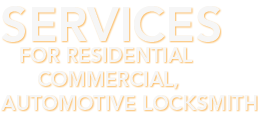 Automotive
Our company specialize in providing top notch automobile locksmith services. We offer all car locksmith services such as:
Emergency Car Lockout - Left the keys inside your car or on the trunk? Nothing to worry since our professional locksmiths can easily perform lock picking to retrieve your car keys. There is no need to bother someone from home to bring spare keys or wait for hours for the locksmith to arrive. Just call us and our technicians will be there in no time.
Automotive Rekeying - Lost your car keys or misplaced them? Stop worrying that someone has kept them because of malicious intent. Call us and have your car locks re keyed. Rekeying is when the internal pins configuration has been changed so the old keys would not fit in anymore. This is effective and will leave you at ease knowing that no one can drive your car away while you are sleeping or shopping.
We also reprogram Transponder Keys. Transponders are the engine control unit (ECU) on the car that sends an electronic message from the key, and it will allow the car to start only provided it receives the correct message back. If you lost your keys, you should first need to reprogram the transponder before you can use it on your car.
Ignition Repair or Replacement – Aside from tires, ignition also worn out fast on our cars. If that is the case, your ignition should be repaired or replaced. Instead of taking your car to a service center, why not call us and our technician will replace it for you. Aside from there is no need to pay for towing fee to bring your car to the service center, your ignition will be replaced in no time.
Other Car Locksmith Services and Needs – We also provide mobile locksmith services for motorcycles, vans, semi-trucks, trucks, and glove compartments. We also extract broken car keys and produce duplicates of your original key.